HR teams, even in smaller organizations, often have to handle multiple time-consuming tasks simultaneously. However, they can use automation and AI to improve efficiency and keep up with their work.
In particular, the area requiring maximum involvement from HR is the recruitment process. The challenges lying ahead of recruiters involve:
Managing schedules of job interviews
Tracking the progress of the recruitment process for each candidate
Conducting job interviews
Making a correct assessment of candidates' skills
Assessing the cultural fit of a candidate
Choosing the right candidate for the position
Ensuring timely onboarding of hired candidates
One of the solutions that can help recruiters keep on track, is the automation of the initial candidate selection phase. AI can analyze a much larger number of applications than a human ever could. AI can also automatically find potential candidates on social media, giving the recruiter access to people they might have never found on their own. Moreover, AI can filter those people according to the requirements for a given position. This way, recruiters can focus on analyzing only candidates who actually match the job description.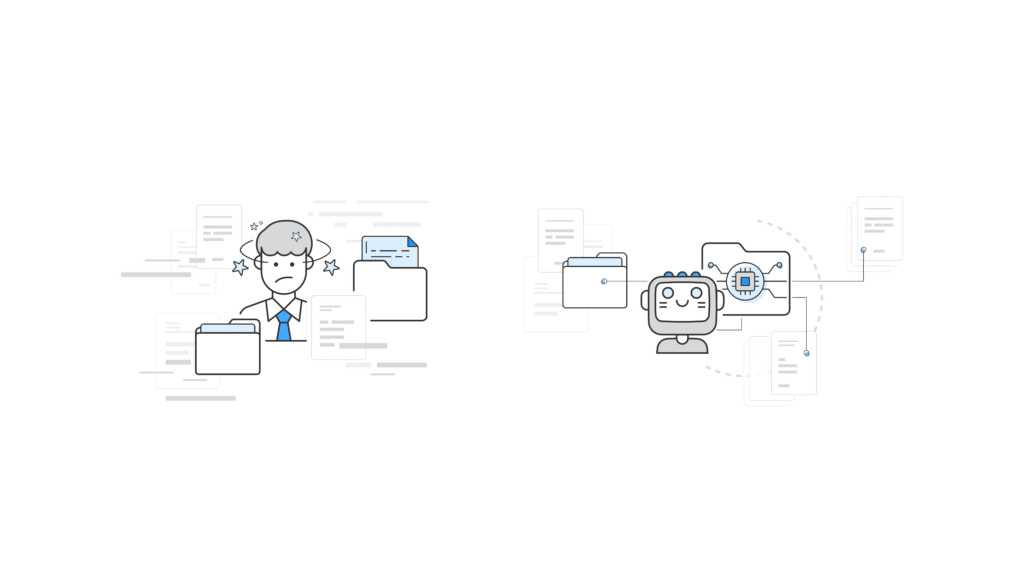 AI algorithms can play a key role in the initial assessment of the specialists' skills and predispositions. This makes the time a human spends looking at candidates' profiles or CV documents much more fruitful. No more hours wasted staring at the screen and rejecting dozens of people who don't match the must-have requirements for the position! Employees can finally focus on the task that actually needs their expertise. The repeatable, mechanical chores are left to the machines.
Automation of processes can also increase internal mobility in the organization by aggregating feedback from co-workers and managers. Constantly updated insight into skills, achievements and performance of employees lets the HR department make better decisions about promotions and assignment of roles.
Ideas for Supporting HR Work with Technology
What changes can you make in your organization to incorporate technological solutions in your HR processes? (While remembering that the best results are obtained when humans collaborate with machines. Automate what you can, to give your employees time to use their knowledge and reason where they are needed the most).
Automation of Recruitment Process
Use a recruitment management system (RMS) to keep all hiring-related information tidy and in one place. This will give you a clear insight into how the recruitment process is progressing for each candidate.
Automatically compare candidates' qualifications with a job offer and filter out applications that don't meet the basic requirements. Recruiters don't have to read piles of résumés to find the promising candidates anymore. Natural language processing algorithms and models can perform this task quite well by finding and normalizing keywords, comparing word vectors, and extracting entities like skills or roles.
Spark an interest by using recruitment chatbots. Your HR employees don't have to answer the same questions over and over again. A good chatbot can detect a user's intent and take the place of a human when it comes to simple interactions. It can give a candidate information about the company, briefly present your products, or even schedule a job interview. This makes a difference when we are talking about a large pool of candidates.
Make use of automation in email and message sending to easily make sure candidates get quick and clear feedback on their recruitment status. An email from you will keep them engaged and up-to-date. In many cases it may be the difference between the candidate continuing the recruitment process or resigning.
Automation of Administrative Work
Greatly reduce the time of onboarding new employees with robotic process automation (RPA). RPA is a technology that can automate various processes in your organization. Emails can be sent without your intervention when someone new is hired. Events can be added to the calendar automatically when an employee submits a form. Your imagination sets the limit to what you can do.
Use chatbots for easier introduction of changes in company rules and regulations. Your employees will be able to ask a robot about various topics related to the organization policy.
Introduce forms and procedures that are consistent across your organization. Forms should be available in the cloud to allow effortless versioning and updating. Procedures should be cleanly described, and the documentation should also be easily accessible online.
Increase employees' engagement by introducing an interactive dashboard that would allow them to view their achievements and goals.
AI and Automation Hand in Hand with a Human
If you want to stay competitive in the times we are living in, automation is a necessity, not a luxury. Allowing humans to put their time into tasks actually requiring their knowledge and experience will turn profitable in the long run. Remember, AI and other technological achievements are not meant to replace people; their purpose is to make our lives easier. By making good use of them, you will not only make great savings and take mindless tasks off of your employees' shoulders, but you will also become part of the digital revolution the world is going through before our very eyes.
Is your organization ready for this technological jump?