Stress, work responsibilities or an overload of duties are not conducive to focusing on your praying. Despite having a small amount of free time, many people still want to have God's word with them. To make it always at hand we created holy bible mobile app for iOS and Android .
Holy Bible mobile app is an interactive app guide for Catholics. It features an intuitive admin dashboard and a handy prayer book at the same time. The idea of creating an application arose from a desire to share the content of the Bible with Catholics spread across the world. The application was created as an internal project. While creating the application we want to provide the opportunity to read the Holy Bible on your phone or another remote device. Regardless of where you are. End-users of the app are people who want to have the Holy Bible always at hand.
ABOUT THE HOLY BIBLE MOBILE APP
The Holy Bible app allows you to read the Holy Scriptures in any way – continuous or selected fragments. You can add fragments to your favorites or create marking lines with a marker. The application allows you to go to the readings of the Catholic Church liturgy for each day, with direct access to the current day. It also contains a systematically extended list of popular prayers. Importantly, the Holy Bible does not require an internet connection and does not display advertising.

The application includes:
the Bible text of the Day with comments, audio version and font settings
the Holy Bible in the full version, displaying at the place you finished last time
prayers dedicated to different intentions, needs, events or people
a prayer's plan – easy scheduling for the next read
Twitter quotes from Pope Francis
interesting live facts about the Holy Patron of the Day with audio version (reading of the day, prayer, breviary)
You can use it to prepare for the sacrament of confession (includes an examination of conscience) or to pray while driving a car or cooking dinner, because reading or breviary can also be downloaded in audio versions.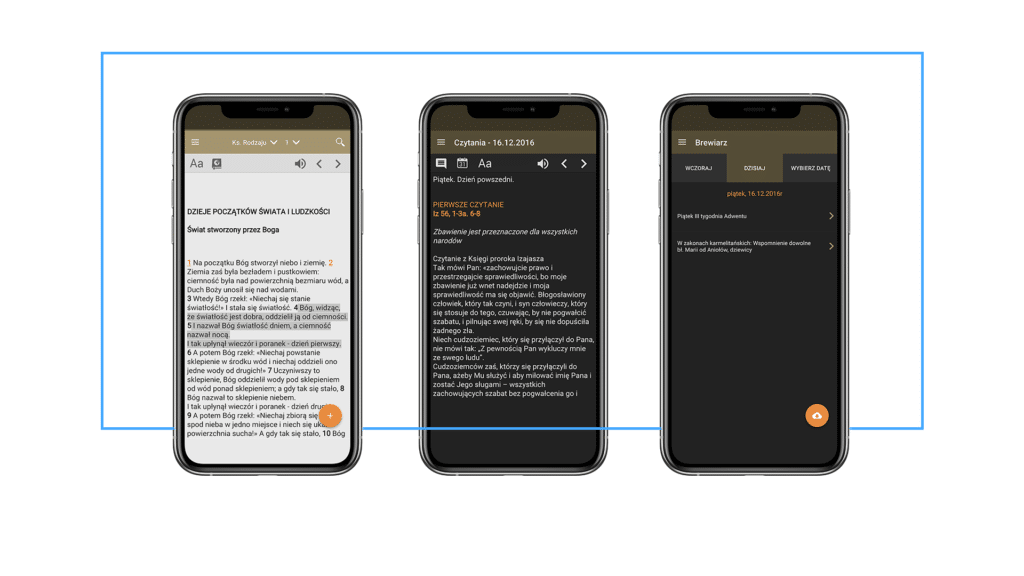 CHALLENGES
Without a doubt, the biggest challenge is obtaining copyrights for translation of the Holy Bible into other languages at the mobile app. Let's mention only German, Italian, and Spanish.
The tool is meant to be a help for missionaries working at various corners of the world, so a lot of different translations are involved.
RESULTS
Finally, over 500,000 downloads and 3 updates that extend the functionality of the application. After all thousands of Catholics around the world regularly use the app- this is our greatest success.
TECHNOLOGIES
The application was written in Java, Android, and Django Python for iOS, Android, and Windows devices. A team of 5 developers, testers, and a scrum master worked on this app.
Here you can download the app and here you can check our approach to custom software development.
Are you inspired?
Let's talk about your idea.