In the case of cancer, it is important to diagnose early and correctly. Early detection and the right diagnosis of harmful changes in the body increase the chance of a full recovery. In the case of breast cancer, a lot depends on the regular prophylaxis that every woman can do at home. And in this case, technology can help.
CHALLENGES
The inspiration for this app came from a tool called 'Your Man Reminder' which was created two years ago by the Canadian foundation Rethink Breast Cancer. The challenge was to transfer the app to the Polish market. A crucial issue was to present sensitive information in an accessible way. In order to do it, the app creators collaborated with Nationale Netherlanden (formerly ING) and decided to engage celebrities, singers, actors, and sportsmen. The idea was to focus users on role models and encourage women to regularly examine their breasts.
SOLUTIONS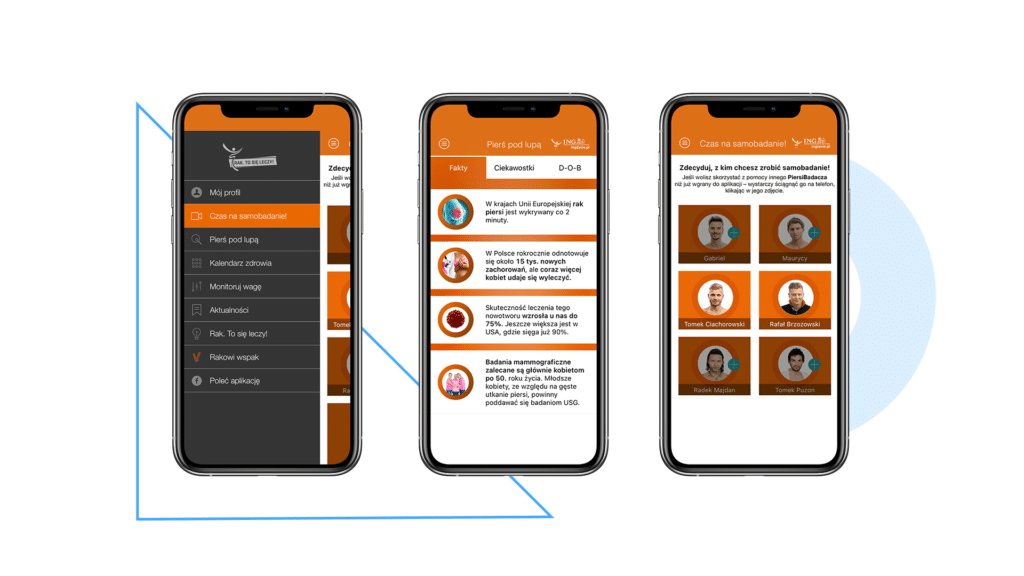 In addition to setting the date of the remainder and watching an instructional video, the app allows you to get to know the breast cancer topic a bit deeper. Users have access to articles and expert advice on oncology, they can collect information from the compendium of knowledge about cancer 'It's worth knowing to win', and they can take part in a new health quiz every month. The self-examination proposed by 'PiersiBadacze' is carried out according to the formula known as DOB – 'touch, observe, examine'. The idea is for ladies to do the following once a month:
touch – when showering, to check by palpation
observe – whether there have been any changes or thickening in the breasts, whether their shape has changed, whether there is leakage from the nipple
examine – thoroughly check the skin and warts for changes in color, wrinkles, bumps – if something unusual is detected, the lady goes to the doctor for consultation (examination).
RESULTS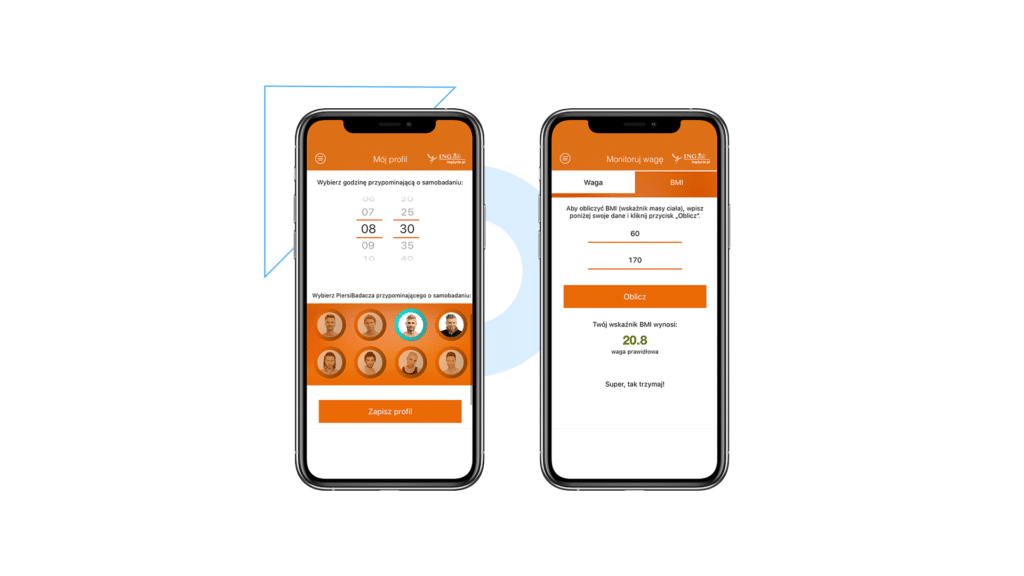 We created an application that was available for smartphones on different platforms (Android, iOS, and Windows Phone). We worked in a team: 2 developers and 1 project manager.
CLIENTS
Nationale-Nederlanden is one of the largest Dutch insurance groups. In Poland, Nationale-Nederlanden Towarzystwo Ubezpieczeń na Życie S.A. has been operating since August 2, 1994. Currently, it serves over half a million people in Poland.
Are you inspired?
Let's talk about your idea.